Canadian Victor Talking Machine R-34 Console, with Micro-synchronous AM Tuner, high-power Amplifier Model 245 and 9" Electrodynamic Speaker, Best-Seller of the new Christmas 1929 RCA-Victor Program

In a Nutshell
This is the nicest and rarest of all 1929 microsynchronous Victor radios, made exclusively for Canadians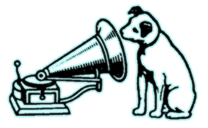 Introduction:
I consider the 1929 microsynchronous radio series as one of the brightest milestones in radio technology and radio history.
A detailed historical and technical documentation, summarizing my own research into, and experience with this radio, could be found in my eBay auctions for Items 6573834006 of Nov.6, 2005 and 270042331293 of Oct.22, 2006, the latter having been copied to here (ref.1). For many years the 3 separate parts of the radio, tuner, amplifier and speaker, sold like hot cakes especially to the Asian market. One of the many obvious reasons is the fact that the cabinets are often in unrestorable condition and the guts are more easy to ship and so sexy that they can very well exist and work without a cabinet.
Here I offer the nicest, most rare, and best condition representative of this series I have seen so far, a Canadian R-34 looking and working like new. The series included models R-32 (simple lowboy console), R-52 (highboy console with doors), RE-45 and RE-75 (lowboy consoles with doors and Electrola phonograph). My RE-34 is a lowboy console with doors and lavish decorations of front and speaker grille, not to be mixed up with another US R-34, that belongs to the much less collectible second generation of this radio.

Additional information:
ref.1. http://www.greenhillsgf.com/Item_270042331293_mod.htm
ref.2. http://www.nostalgiaair.org
ref.3. http://www.nipperhead.com/vre.htm has free 12-page manual for Victor Radio

About my radio:
The Canadian R-34 is the nicest and rarest microsynchronous Victor radio. It is in mint condition and works flawlessly. The schematics in pict.s 26, 27, 39 have been drawn from the actual radio, and the values for the Ohmic resistances of all coils are averages over many radios I had restored before. Please e-mail me (Kris) for any questions, ich spreche Deutsch, je parle Français.
Here are the specifications:
Technical Description of Item

Manufacturer
Victor Talking Machine Co. of Canada Ltd., Montreal
Model
R-34
Type
AC-powered 6-tube TRF neutrodyne AM-tuner, with separate 4-tube amplifier, electrodynamic speaker
Tuner
Microsynchronous 5-stage Tuned Radio-Frequency (TRF) tuner
Amplifier
Model 245, 15 Watt transformer coupled push-pull amplifier
Speaker
9" Electro-dynamic Rice-Kellogg speaker with field coil
Serial numbers
Cabinet: C2405, Tuner: 119094, Amplifier: 262554, Speaker: B20738
Prod. Year
early 1930
Cabinet
Walnut lowboy console, carved front, 2 hinged doors, speaker grille cutouts
Dials and knobs
Illuminated curved celluloid vernier slide-rule dial, 3 wooden knobs, on/off switch
Frequency Range
AM 550-1500 kc
Tube line-up
Tuner: 5x26 (RF), 27 (Det.), Amplifier: 26 (Drive), 2x45 (Audio), 80 (Rect.)
Dimensions (WxDxH)
27" x 17" x 45"
Weight [pounds]
Tuner 18, Amplifier 30, Speaker 21, Cabinet 56, Total 125
Comment
1929 early AC-powered radio, technically and historically pioneering milestone in radio development, in mint and working condition