The 1965 State-of-the-Art All-Speed Stereo Record Changer Z565W "Moderne" with "Micro-Touch 2g" Tone Arm with "Free Floating" Cartridge and Rare Pair of "Circle of Sound" Quadrant Speakers, all restored and working
In a Nutshell
Two of Zenith's Innovations in one - an Eye and Ear Candy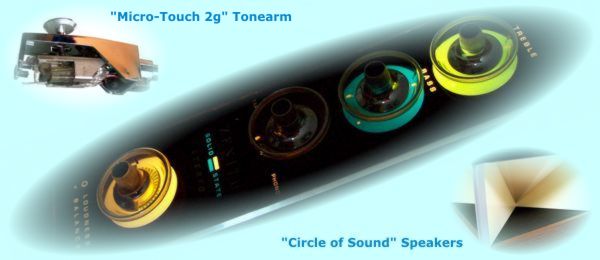 Introduction:
The system for sale here was advertized by Zenith in the mid 1960's (pict.s 25-27) with several electrifying keywords: "Micro-Touch 2g" tonearm with "free-floating" 2-gram cartridge, and the famous "Circle of Sound" speakers. The high-end series included a model with AM/FM radio Z590W "Troubadour", the record changer - only model Z565W "Moderne" and later the 1971 models A564W "Artiste" and A448W "Whirlaway". My record changer chassis has the EIA number 8576837 (paper tag in pict.17), which identifies it as a "Voice of Music" product (857), built in the 37th week of 1968. V-M Corporation (Voice of Music), from the late 1950s through 1968, sold to original equipment manufactures (OEM) and was the world's largest record changer manufacturer. It produced more record changers than all other record changer manufacturers in the world combined. V-M audio enthusiasts have an own website (ref.3). The Z565W is the most collectible of them all, since it separates radio and phonograph functions and has the gorgeous back-lit control panel (pict.s 32,33). The specifications and operating instructions can be seen from pict.30.
My system comes with a very unusual and rare version of "Circle of Sound" speakers. Whereas the speakers generally are mounted in cylindrical boxes, mine have the form of a cuboid, and have dividers that separate the circle into 4 quadrants (pict.s 1-3, 13-15). The basic design is the same, a full range acoustic suspension speaker with duo-cone 6.5" driver vertically firing into a conical diffuser. I think the speakers have been made also by Zenith who had a patent on theirs. The system is one of several so-called omni- or multi-directional speaker systems (pict.28), and had illustrious competition from names like Bose, H.H. Scott, Harman Kardon (pict.29).

Additional information:
ref.1. http://theinvisibleagent.wordpress.com/2009/06/06/zenith-circle-of-sound-record-player-1965/
ref.2. http://flmngo.com/zenith-circle-of-sound/
ref.3. http://www.thevoiceofmusic.com
ref.4. http://www.thevoiceofmusic.com/catalog/part_detail.asp?PNumberBase=1490-03&SearchType=MfgName&MfgName=Zenith&Categories=

About my record changer:
The system is in almost new looking condition. The vinyl imitation wood covering is nearly perfect, and the smoke-colored hood has only minor scratches. The chassis has been cleaned and in-depth serviced. All (hum generating) electrolytic capacitors have been replaced (compare pict.s 19-21). The idler wheel has been retreaded. Should it ever fail, it can be readily replaced (contact Gary Stork, ref.4, part #1496-05). The record changer works in all functions, automatically detecting record sizes of 7", 10", 12", and playing 4 speeds (16, 33, 45, 78 rpm). The original free-floating 2g cartridge has its original twin needle and works perfectly. mp3 players and other modern stereo equipment can easily be amplified with the AUX inputs (see 10MB movie, pict.31). Please e-mail me (Kris) for any questions or comments, ich spreche Deutsch, je parle Français.
Here are the specifications:
Technical Description of Item

Manufacturer
Zenith Radio Chicago, IL, and V-M (Voice of Music) Benton Harbour, MI
Model
Z565W "Moderne", V-M: I297-C36
Type
Autom. stereo record changer with solid state amplifier
Production Year
1965 (this one Sept. 1968, see text)
Serial Number
V-M 169343
Cabinet
Walnut wood vinyl imitation
Dial
multi-color back lit lucite dial
Knobs
4 transparent lucite knobs
Controls
Speed, on/off/reject - volume, balance, tape/phono, tone controls
Functions
Speed: 16, 33, 45, 78 rpm, Size: 7", 10", 12", autom.-manual, AUX
Speakers
Acoustic suspension with duo-cone 6.5" driver and cone reflector
Size (WxDxH)
Main: 20 " x 15 " x 10½ ", speaker: 10½ " x 10½ " x 15"
Weight
Main: 28 lbs = 12.8 kg, speaker: 9 lbs = 4.1 kg
Comment
Excellent condition, serviced, perfectly working, ear and eye candy